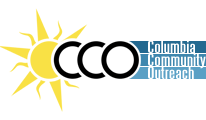 Register through Eventbrite under group "LAACU 2016" to participate in CCO's day of service. The organizers
identify volunteer opportunities for groups throughout the five boroughs. More to come!
MAIL [email protected] IF YOU OR YOUR GROUP NEED(S) A REGISTRATION EXTENSION.
Columbia Community Outreach (CCO) coordinates Columbia University's largest day of community service, which unites students, faculty, and alumni alike. Every year, hundreds of volunteers gather at designated locations throughout New York City to lend a helping hand. In recent years, projects have included rebeautifying parks, serving food in soup kitchens, running errands for homeless shelters, and performing administrative work at neighboring schools.
If you have been looking for a way to get involved in community service, then look no further. CCO is a great chance for students to come together and give back alongside peers, professors, and alumni. 
Groups:
To register your group, choose a team captain to create your team. Once the team captain has created your team, you will be able to have your members register under that team. 
Note: There is a perk to signing up with a group: The 20 largest groups with the best attendance will be entered into a contest for the chance to win $500 toward their group mission.
Individuals:
Even if you do not have a team, you can still participate in CCO's Day of Service.
Logistics:
Registration arrival times for the day of will vary according to assigned project start time. Information for assigned volunteer projects will be released a week before the event.
Note: The volunteer projects take place throughout New York City and some may require taking public transportation. MetroCards will be provided only in cases of dire need.
FREE BREAKFAST AND CCO T-SHIRT AND WATER BOTTLE!
We'll also provide any materials you need for your project and offer vouchers for discounted lunch at a restaurant near campus.